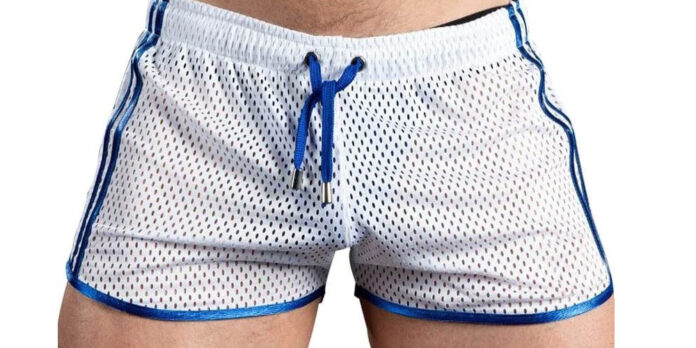 men's mesh shorts are currently quite trendy. You will find men at the gym, field, or home wearing mesh shorts. Additionally, mesh shorts are quite popular among sportsmen. For instance, NBA players wear mesh shorts because they are the perfect combination of streetwear and sportswear. For this reason, the market is swarmed with mesh shorts for men in different sizes, colors, materials, and designs.
Buying guide for mesh shorts for men
The availability of numerous mesh shorts options on the market is a fantastic thing. However, it also places a lot of pressure on buyers when selecting the best option. So, here are some things you should remember when purchasing mesh shorts for men:
1. Unique features
In a market packed with options, the key to finding the perfect product is looking out for unique features that set it apart from its competitors. For instance, when it comes to men's mesh shorts, you may benefit from purchasing ones with unique design features like pockets, material bonding for durability, and multi-stretch elements. Furthermore, you must ensure that the features work properly. For instance, if a pair of shorts have pockets, you should check to ensure that the pockets are deep enough and their inner material is not prone to quick tears. Sometimes, the unique features may not be as functional as you expect, hence a waste of your money.
2. The material
Most athletic shorts for men are made with polyester as it is one of the softest and most comfortable materials. However, mesh shorts feature a breathable inner mesh fabric. So, when choosing the best mesh shorts for men, you may benefit from looking out for unique elements like a double-layer mesh fabric. Furthermore, ensure that the fabric provides the comfort levels you need.
3. Versatility
Most people assume that mesh shorts are only good for sports activities. However, the right pair of mesh shorts offer versatility. For instance, you can wear them while playing sports like basketball, lounging at home, running errands, or training. Furthermore, the best mesh shorts make great streetwear garments. Therefore, when choosing a pair of mesh shorts for men, it would be wise to choose one whose design offers high versatility levels.
4. Value for your money
While men's mesh shorts are not expensive, it would still be wise to pick a pair that is worth it. Therefore, you would benefit from asking yourself questions like:
How long will the men's shorts last?
Is the quality of the shorts worth the price?
What do other clients say about the product?
How does the price compare to other similar products on the market?
It is worth mentioning that the prices of men's mesh shorts differ depending on the features, materials, durability, and brand. The retailer may also influence the cost.
Conclusion
The buying guide above aims to help you find the most suitable mesh shorts for men for your needs. Now that you know what to look out for, you may benefit from knowing where to start your search for the perfect men's mesh shorts. Alibaba.com is a fantastic place to search for various mesh shorts.