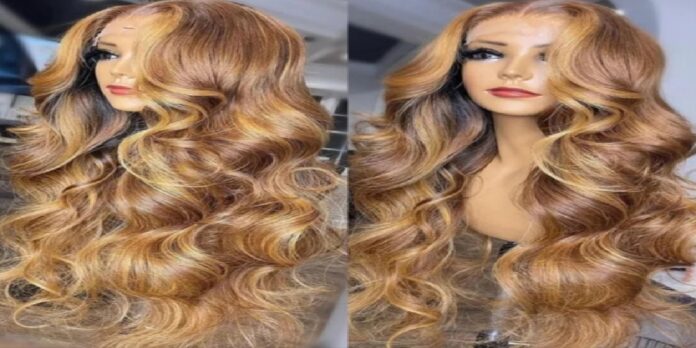 Blonde hair is one of the most popular shades of human hair colour. Hollywood has made it stay popular for decades by using it for models and celebrity magazines. Like most hair colors, even Hollywood couldn't keep it from having different shades. The one blonde shade type we'll be discussing on this post is the honey blonde color. It's a blend of sexy, power, and elegance.
What's a honey blonde color?
Think of honey blonde as a perfect blend between blonde and honey brown colour. It's a warm shape that's not as bright as the normal blonde color, but also not as dark as honey brown. This warm blend color is what has made the honey blonde wig popular in recent times.
Honey blonde wigs
Honey blonde wigs scream feminine with a touch of modern and sophistication. If you're looking to charm your way into hearts, the honey blonde wig is definitely a choice for you. Also, if you're looking to experiment with hair colors but not looking to go big and loud, the honey blonde wig may just be the introduction you need.
Honey blonde wigs also go well with a wider range of skin tones than some other hair colors. Consider it an in-between from blonde to dark hair. Blonde hair goes with naturally light skinned faces, while brown accommodates darker colour variations. Honey blonde brings the limited skin tone range of blonde and brown, and stretches it to accommodate different skin tones.
Honey blonde wigs also come in different styles. The style makes the wig adaptable to whatever or wherever you're rocking it to.
Honey blonde wig styles
Curly
Natural curls have been a trend for a while now. So, if you want some curls on a honey blonde wig, who says you can't have it? Honey blonde wigs allow for different stylings and curls are not left out. Honey blonde wigs with curls is a perfect summer look to try out.
Body wave
Body wave styling with honey blonde wigs exudes elegance and class! It can be used as a simple casual look to a more sophisticated business event. The texture of the honey blonde wig can hold out the body wave effortlessly. The waves help accentuate the perfect blend of the honey blonde.
Long straight hair
If you've been following the hair trends long enough, you should remember when award-winning singer, Beyonce, rocked the long straight honey blonde wig sometime in 2019. She's a class on her own, but the honey blonde wig made her look untouchable.
These are just the few styles that you can rock with a honey blonde wig but it doesn't end here. These wigs come in more styles than you can imagine. If you're buying directly from a supplier, do not forget to ask them for their catalog. You'll definitely be glad you did.
Conclusion
If there's one hair wig you probably can never go wrong with, it has to be the honey blonde wig. Its color is a classic blend of blonde and honey brown, making it a good choice for many skin colors. Since it comes in different styles, you can rock the wig effortlessly however you want. If you don't have the honey blonde wig in your wig collection, it's about time your collection got an upgrade.